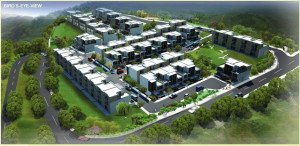 After the successful delivery of 24 Carat plots in the first phase, Doon Callisto offer 70 exclusive villas – Edenia Luxury villas in its Phase-II in the mountain valley of Dehradun, with the Scenic view of the Queen of Hills Mussoorie, the first of its kind approved by MDDA. A joint venture of Jyotsana Lamp Caps Pvt Ltd (JLCPL), Sanyukta Developers Pvt Ltd (SDPL) & Associates, Doon callisto-integrated township.
The Project Edenia Villas by Doon Callisto would spread over 19,000 sqm of land strategically located in Rajpur road extension, Mussoorie Sahastradhar bypass, Dehradun. The villas are created keeping in mind the nature and luxury in perfect harmony. The concept of providing the best of both worlds and offer you best of modern luxury, amidst the beauty of nature.
Doon Callisto is going to provide duplex accommodation on a minimum plot size of 120 sqm with constructed area of 2,000 sqft, with a further expandable area of approx 1,500 sqft. It offers various sizes and ranges to suit every bodies need and desires. Its maximum plot size of 216 sqm with a constructed area of 2,600 sqft with a scope of further construction of 1,600 sqft and these approvals are valid for a period of five years. A full emphasis is given on security. They would give possession in next 36 months. The entire site is backed by the magnificent view of the queen of hills Mussoorie surrounded by lush green mountains. For this each movement will be monitored by CCTV. In addition each villa will be provided with a video phone on the main entrance. They also guarantee a regular water supply and power back up for essential services.Health club with a swimming pool, sports club wit modern equipments, jogger's track, spacious play area for children and shopping centre.
For Complete Project details Visit:
http://estatekart.com/projects/doon-callisto-edenia/